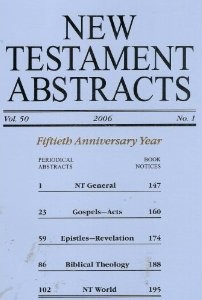 Founded in 1956, New Testament Abstracts (NTA) has become an indispensable research and bibliographic aid for scholars, librarians, clergy, and students of the New Testament and its historical milieu. Every year NTA abstracts at least 2,150 articles chosen from more than 500 periodicals in numerous languages. Nearly 850 current books are also summarized annually.
Publication Details:
NTA is published by Boston College, Chestnut Hill, MA.
NTA is published three times a year: February, June, October.
ISSN 0028-6877
Subscriptions and Back Issues:
As of autumn 2018, CBA no longer manages NTA subscriptions.
For more information, visit the BC School of Religion and Theology website.
CLAIMS: Until the NTA publisher names its subscription fulfilment solution, claims should be sent to NTAbstracts@bc.edu.
The publishers have indicated that the publication of the last issue of NTA for 2018 will not take place before December 2018.
The first issue of NTA for 2019 will not appear before April of 2019.
Please hold orders for NTA for 2019 until the new arrangements are in place later this fall (after November 1).
NTA Online
NTA is available online for purchase through EBSCOhost. For more information,

click here.