CBA is no longer handling the sale and distribution of CBQMS.
CLICK HERE TO ORDER FROM THE HFS BOOK CATALOGUE.
The purpose of this series is to facilitate the publication of books of a specialized scholarly nature in the biblical field. It is envisaged that such a series would encourage work on technical, detailed subjects, even of a restricted scope.
Fifty-five volumes have been published since the inception of the series in 1969, with one or two new volumes appearing almost every year. The most recent monograph is: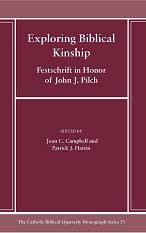 TO ORDER:
Click here for HFS Book catalogue.
CBQ Monograph Series sales and distribution is being handled by Hopkins Fulfillment Services (HFS) beginning in the autumn of 2018.
Contact HFS
EMAIL
hfscustserv@press.jhu.edu
PHONE
U.S. and Canadian customers: 800-537-5487
Local (Maryland area) and the rest of the world: 410-516-6965
Office hours: 8:30 a.m. to 5 p.m. Eastern time
MAIL
Hopkins Fulfillment Services
P.O. Box 50370
Baltimore, Maryland, 21211-4370
FAX
410-516-6998