CBA Regional Meetings
As of March 2023, the CBA is working on reorganizing its Regional Meetings.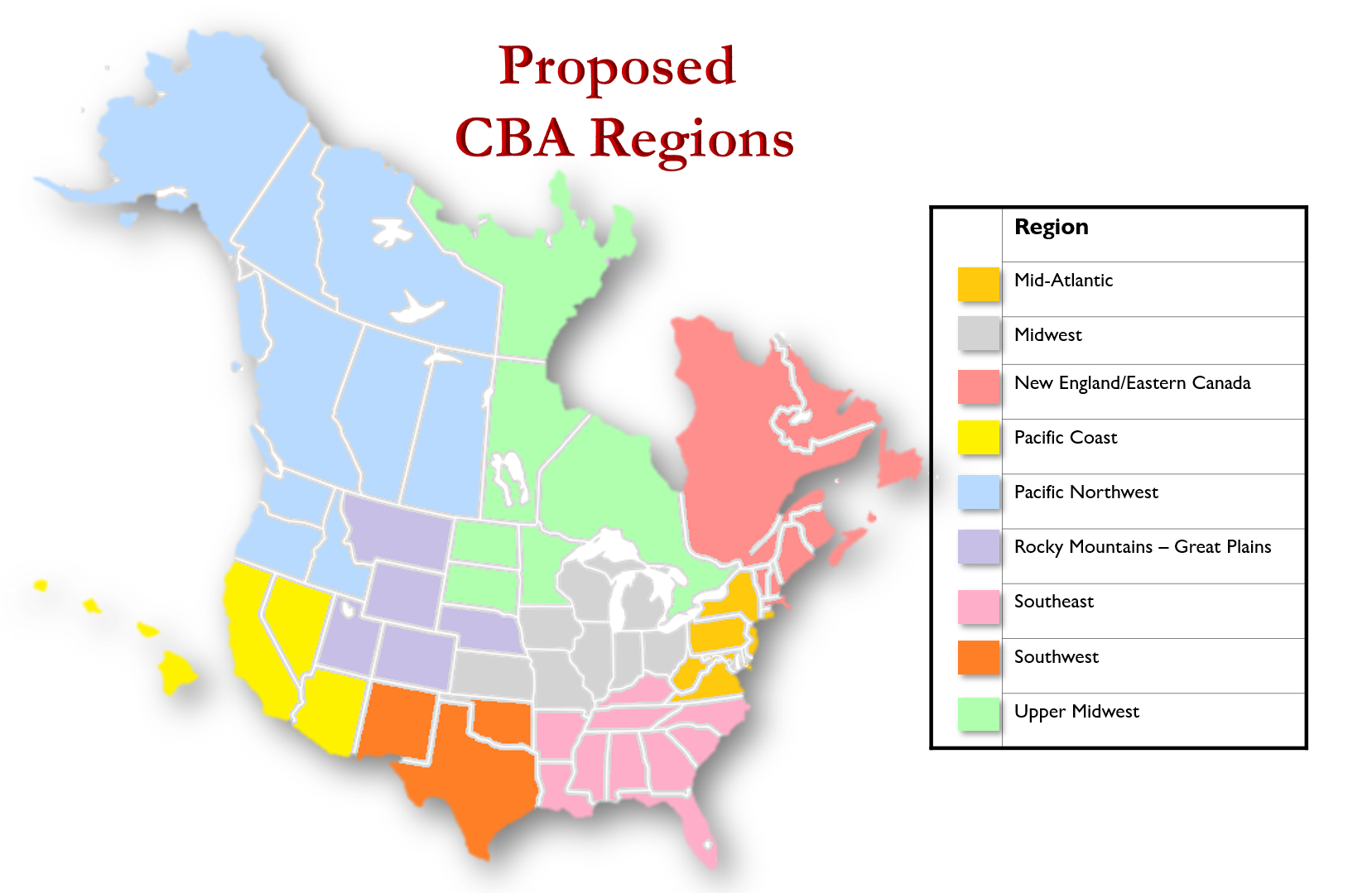 The Mid-Atlantic region includes Delaware, District of Columbia, Maryland, New Jersey, New York, Pennsylvania, Virginia, and West Virginia.
The Midwest region includes Kansas, Illinois, Indiana, Iowa, Michigan, Missouri, Ohio, and Wisconsin.
New England/Eastern Canada
The New England/Eastern Canada region includes Connecticut, Maine, Massachusetts, New Hampshire, Rhode Island, Vermont, Quebec, Newfoundland, Prince Edward Island, and Nova Scotia.
Pacific Coast
The Pacific Coast region includes Arizona, California, Hawaii, and Nevada.
Pacific Northwest
The Pacific Northwest region includes Alaska, Idaho, Oregon, Washington, Alberta, British Columbia, Northwest Territories. Saskatchewan, and Yukon Territory.
Rocky Mountains - Great Plains
The Rocky Mountains - Great Plains region includes Colorado, Montana, Nebraska, Utah, and Wyoming.
Southeast
The Southeastern region includes Arkansas, Alabama, Florida, Georgia, Kentucky, Louisiana, Mississippi, North Carolina, South Carolina, and Tennessee.
Southwest
The Southwest region includes Oklahoma New Mexico, and Texas.
Upper Midwest
The Upper Midwest Region includes Minnesota, North Dakota, South Dakota, Manitoba, Nunavut and Ontario.
---