Publication Details: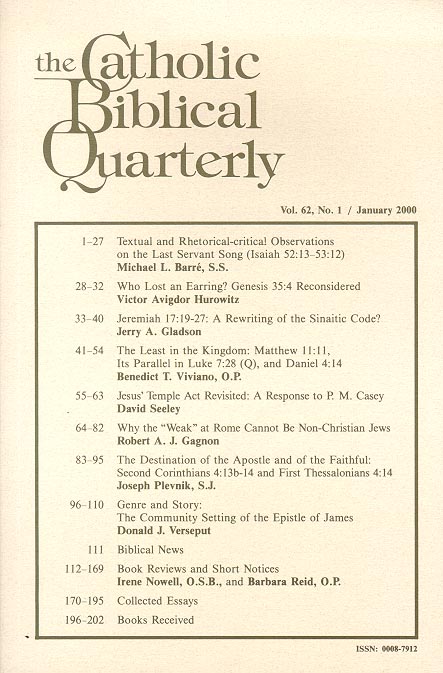 ISSN 0008-7912
Published January, April, July, and October.
Subscriptions and Back Issues:
For Institutions or Individuals
Beginning in 2019, CBQ subscriptions will be managed by Catholic University of American Press (via Johns Hopkins University Fulfillment Services). Click here to subscribe: CBQ Subcribe
Subscribers will have the option to buy the print edition of CBQ, the on-line version, or both. See details on Subscription Form as to Terms of Agreement and accessibility to electronic back issues.
Until Jan 1, 2019, Subscribers will continue to have access to the full CBQ collection by e-mailing the CBA office and getting the new log-in information. Click Here

For CBA Members only
Membership in CBA (dues paid) includes a subscription to CBQ and access to the full CBQ collection on line.
[Note: Members are scholars who have been voted into membership after application.
Subscribers are institutions or individuals who want access to CBA in print or electronic form.]
For Individual Subscribers (not Institutions) wanting CBQ in print and on-line access
Another option for Individuals wanting a print copy of CBQ and electronic access to the full CBQ collection is to become a Sustaining Member of CBA. Click here
CBQ Recent Issues - Table of Contents
---
CBQ Issues Online
All back issues of CBQ from the years 1939–2017 (Vols. 1-79) are available on-line without additional charge to CBA members only.
ATLASerials® (ATLAS®) is an online full-text collection of major religion and theology journals (including CBQ) used by libraries, librarians, religion scholars, theologians, and clergy. For more details and access information,

visit the ATLAS webpage on www.atla.com

.
ACCESS CBQ ONLINE (members only)
---