2020 Baltimore-Washington DC Regional Meeting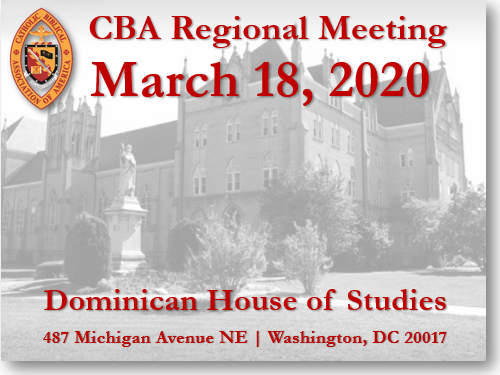 CBA members are invited to the March 18th meeting of the Baltimore-Washington Region and also are encouraged to invite graduate students and colleagues to attend. Please feel free to circulate the pdf Meeting Flyer.
The meeting is hosted by the Dominican House of Studies (487 Michigan Ave, NE, Washington, DC 20017) and begins with registration at NOON on Wednesday, March 18th.
The program includes
Panel discussion with Paul K.-K. Cho, Wesley Theological Seminary, Lesley R. DiFransico, Loyola University Maryland, and Robert D. Miller, II, OFS, The Catholic University of America
Papers by Matthew Suriano, Associate Professor of Near Eastern Languages and Cultures, Meyerhoff Center for Jewish Studies, University of Maryland, Stephen L. Cook, Virginia Theological Seminary, and Timothy Rucker, The Catholic University of America
To view the schedule and program, click on the Mar18 button below.

There is no charge, but registration is required by the close of business on March 11 to determine numbers for the coffee break.
To register, click on the button below and use yourmember log in credentials. Members should instruct their guests to use the "Register as a Guest" tab to register. You may also email your name and institution to the CBA Office (cba-office@cua.edu) and request to be registered.